molo and the flexible workspace · ORGATEC 2018
molo presents a flexible solution to space making in the work environment. Designed by Stephanie Forsythe + Todd MacAllen, the soft collection is a modular system composed of freestanding partition walls, building blocks, seating, table and lighting elements.
Fabricated with paper or textile, the collection utilizes flexible honeycomb geometry to expand, contract and flex, while also capable of impressive acoustic absorption. Each soft element can function independently or combine with another via magnetic end panels to create instant workspaces, quiet nooks for phone calls, spontaneous meeting rooms and diverse seating topographies.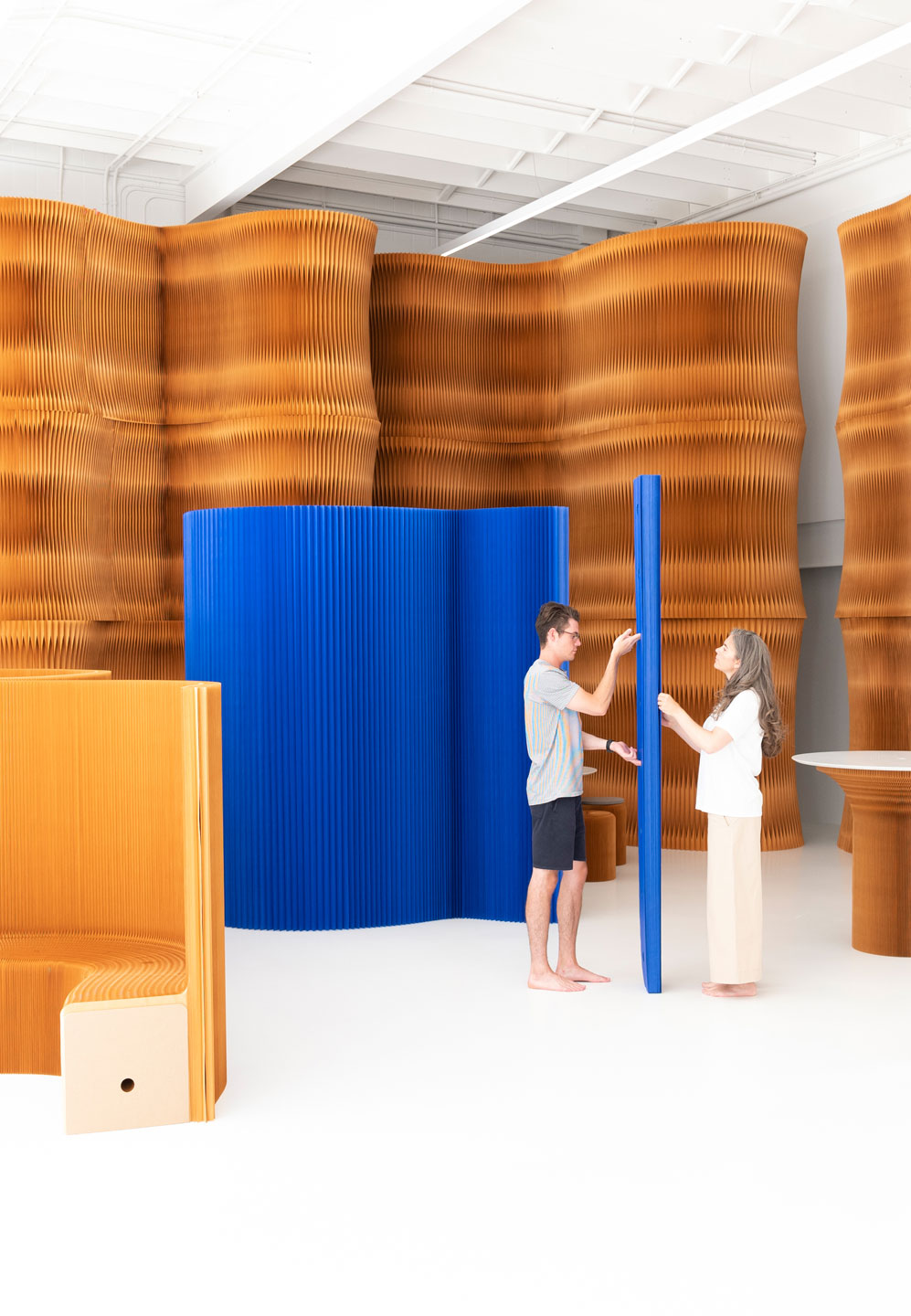 At ORGATEC, a 5 meter tall backdrop of undulating, carved and sculpted paper softwalls shows how effortlessly and dramatically an open plan can be redefined, separating the primary work space from smaller service spaces.
Visitors are invited to explore and interact with all the moving parts of the molo office. Unfold softwalls in a variety of colours, unfurl benchwall to shape a meeting room of any size, play with the folding stools, benches and tables and share your project ideas on molo sketching circles.
The molo soft collection can easily grow and adapt to changing needs in the course of a day and the life of a business. A sustainable alternative to fixed construction, each softwall partition expands 100 times its compressed dimension for storage and shipping.
Lighting elements of the soft collection also help to absorb sound and shape the physical space with overhead canopies of cloud softlight and the illuminated white textile version of softwall + softblock. All lighting elements are 90+ CRI.
molo cofounder and designer Stephanie Forsythe will be at ORGATEC to share her unique insight into the molo studio.
Meetings to discuss projects or press interviews with molo at ORGATEC may be arranged by writing to [email protected] or calling the studio at +1 604 685 0340.
see exclusive images from ORGATEC here.
find our full line of paper furniture here.