bespoke
The soft collection is inherently flexible. As modular elements in a system designed for use in countless environments, standard products suit a wide range of applications. Depending on your vision, some projects may call for made-to-order items, customizations, or modifications. molo's workshop can accommodate a variety of customizations depending on a project's specific needs.
To request more details or discuss an idea, please contact [email protected].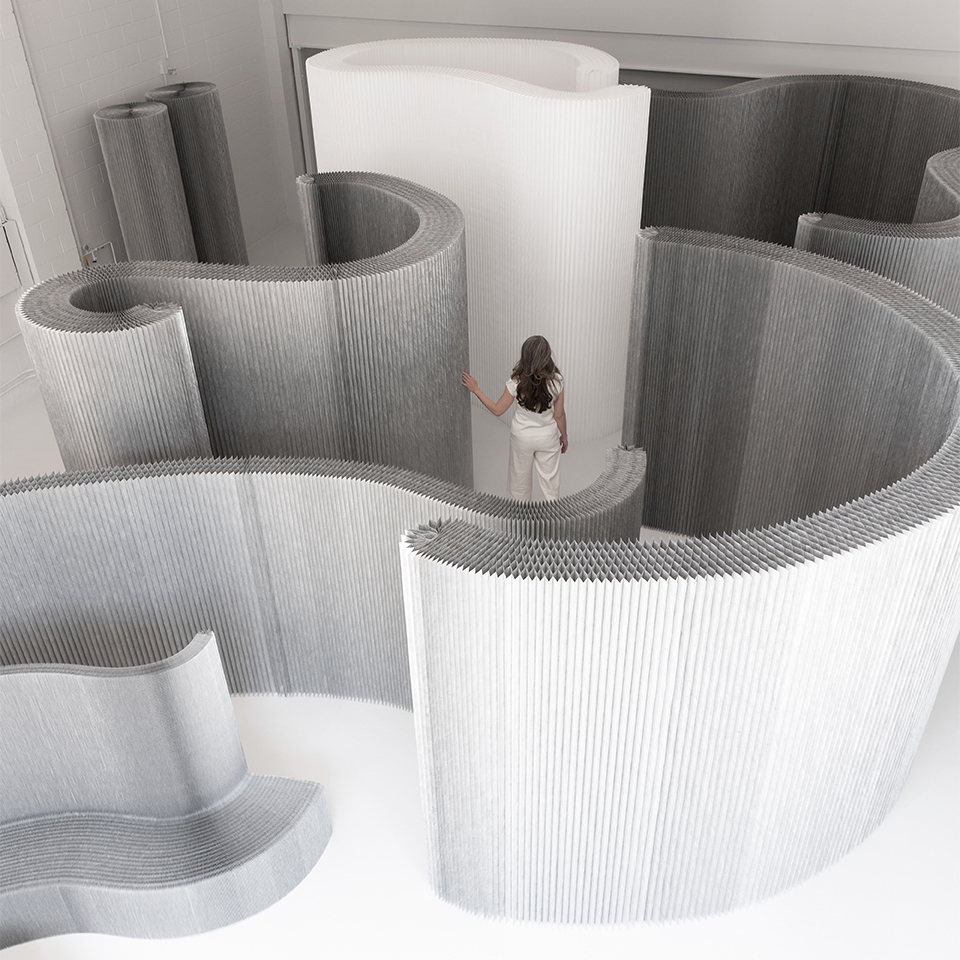 custom height
Custom height options are available for all materials of molo's softwall + softblock. If you already own your softwall, local custom cuts can be completed with an industrial paper cutter, available at a local printing or paper shop. Please note it is essential to avoid the magnetic sections of the partition while cutting.
A document is available which explains the guidelines for cutting softwall + softblock.

custom colour
textile softwall acoustic room divider may be ordered in any custom colour, from sunshine yellow to midnight blue and every Pantone colour in between. Shades of yellow are often translucent allowing the volume of the space partition to softly glow as sunlight touches its surface. Other colours are usually opaque creating an effective privacy screen.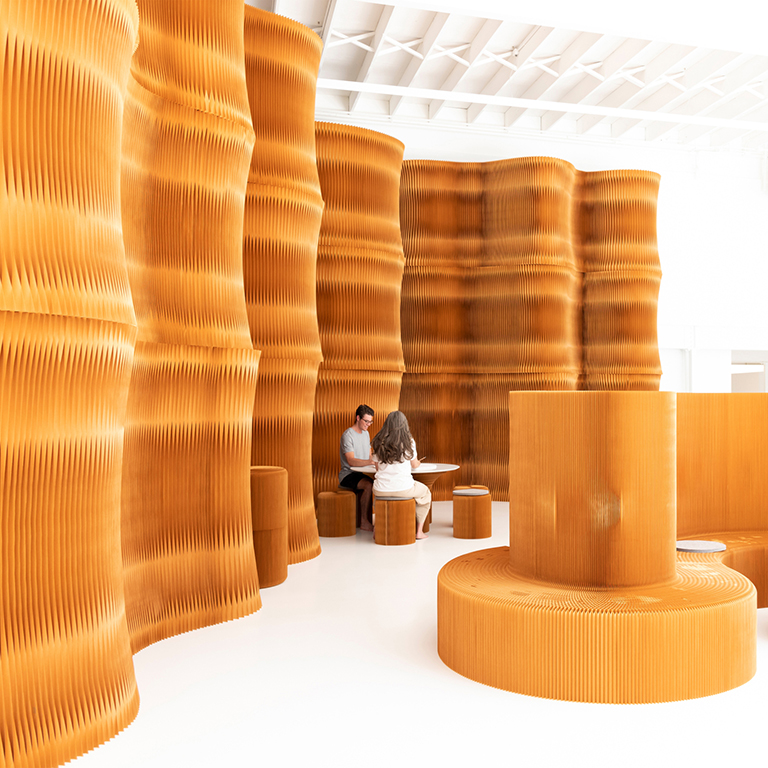 scallop walls
For aesthetic purposes, the partitions can be scalloped to reveal the remarkable fluting along the pleats, creating vaulting curves through the structure. Installations featuring scalloped softwalls are reminiscent of Gothic architecture—from heavy stone to lightweight paper.
Scalloped softwalls can be used in sculptural installations like molo's Orgatec 2018 display, or to easily adapt and reshape living and working spaces.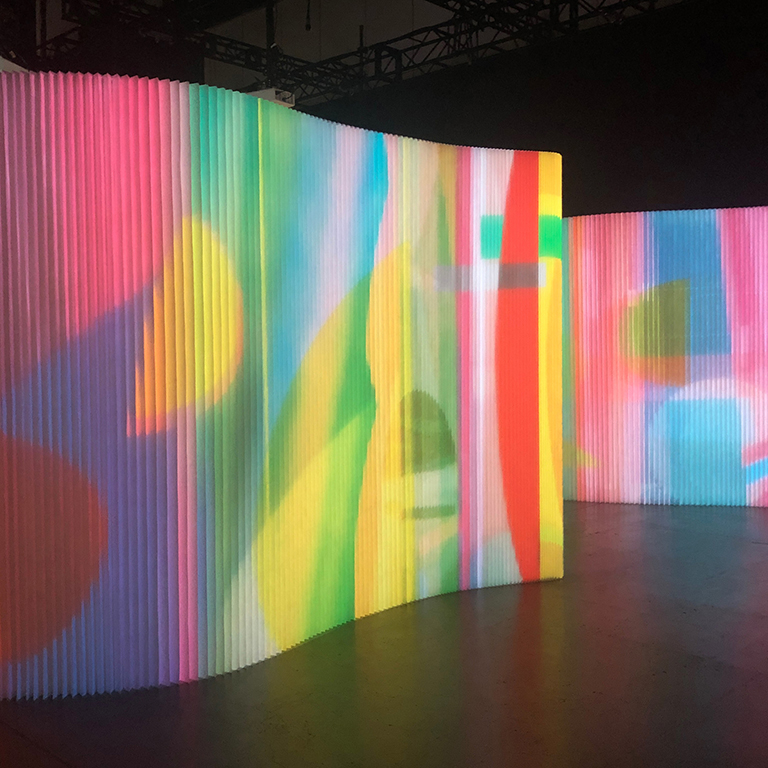 projecting on white textile
molo's white textile material is especially well-suited to interaction with light. While it can be illuminated from within by LEDs or uplit with spotlights, the material also takes projections beautifully. softwall's pleated surface adds an abstract and artistic element to the projected images. No customizations are required to project on the white textile products in molo's soft collection.

notches and custom cutouts
softwall can be die-cut to create a practical notch for displaying promotional materials, books, or small objects. Similarly, a custom cutout can be added to the partitions to hold an iPad or other small screens.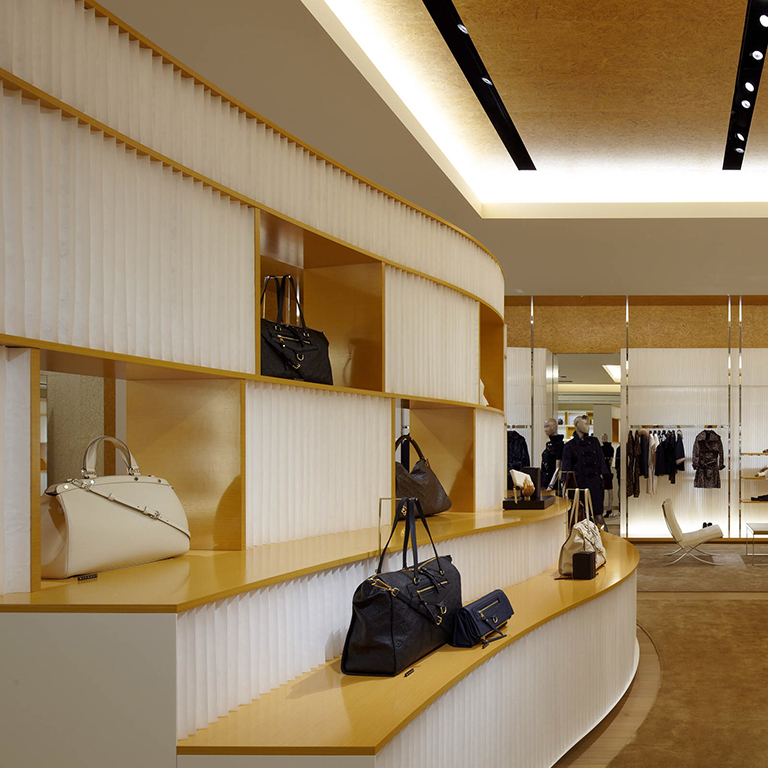 adding or removing length
Each unit of softwall + softblock has a standard maximum linear extension of 4.5m (15ft). While multiple units can link together by their magnetic end panels, our workshop can also create custom-length softwalls to accommodate project-specific needs. Layers can be removed from the partitions, creating shorter stretches.
Due to the modular nature of the elements, it is generally preferable to connect multiple units together. However, if many shorter sections are required or if pairing LEDs with more than one softwall or softblock connected in sequence, it can be beneficial to create custom-length partitions. This process for custom length softwall + LED involves removing the connecting magnetic end panel, preventing the seams from casting shadows.

gilded softwall and softseating
In their investigations of paper, molo designers and founders Stephanie Forsythe and Todd MacAllen found inspiration in illuminated manuscripts and gilded books. While signifying a manuscript's importance, this process also safeguarded the paper from dust, moisture, and sunlight. Through that same centuries-old process, molo coats the paper with a 24-karat gold leaf that will never tarnish.
Honouring this tradition and celebrating paper's significance to molo products and designs, molo has developed a gilded version of its softwall, softblock and softseating fanning stool. The gilded pleats catch light with a subtle beauty and sheen that shifts with the viewing angle. Similar to wrought gold furniture, or cathedral altarpieces, the gilded stools are intended for use but adopt increased ritualistic significance and sculptural value.
Gilding is possible for all molo paper products.

custom colour LED for softwall + softblock
Flexible LED ribbons integrate with textile softwall + softblock to transform the elements into expressive, luminous space partitions. These are offered in warm white (2700K) and neutral white (4000K) colour temperatures. Custom colour temperatures can be provided for orders that can accommodate a longer lead time.

cloud softlight
molo offers warm white (2700K) and neutral white (4000K) LEDs as standard. Custom colour temperatures can be provided for orders that can accommodate a longer lead time.
Our workshop can also create custom-length hanging kits to accommodate project-specific needs. Please contact [email protected] if you have any questions or would like to see our light loss chart.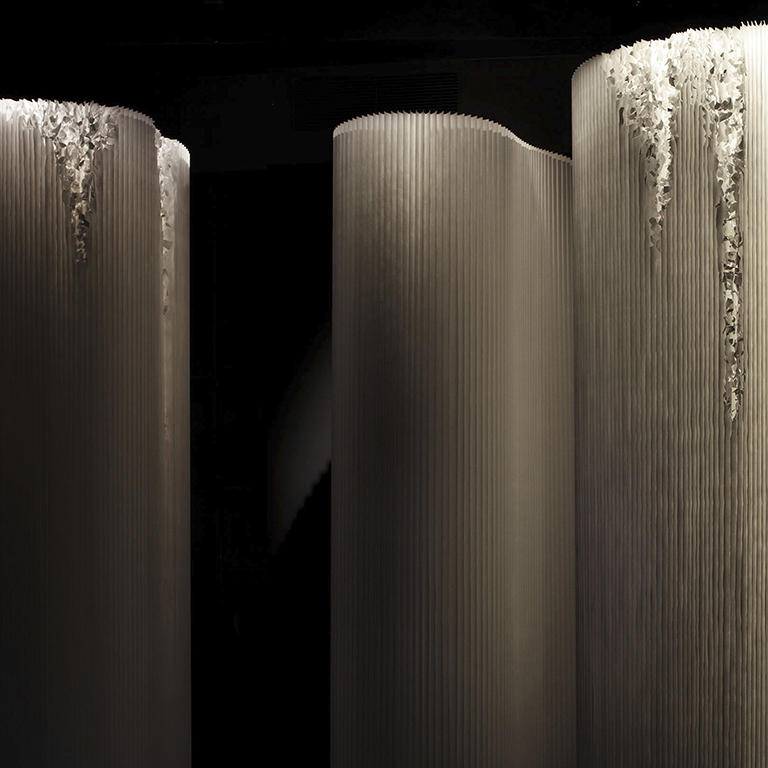 molo with Ingo Maurer at Spazio Krizia
softwall + softblock have an inherent, sculptural beauty, and it is possible to highlight this characteristic with artful cuts and playful arrangements.
The examples here are from a collaboration with Ingo Maurer at Spazio Krizia (Milan · 2008) and were cut with trimming shears, eroding their crisp geometry to expose the combination of strength and delicacy in the flexible honeycomb structure.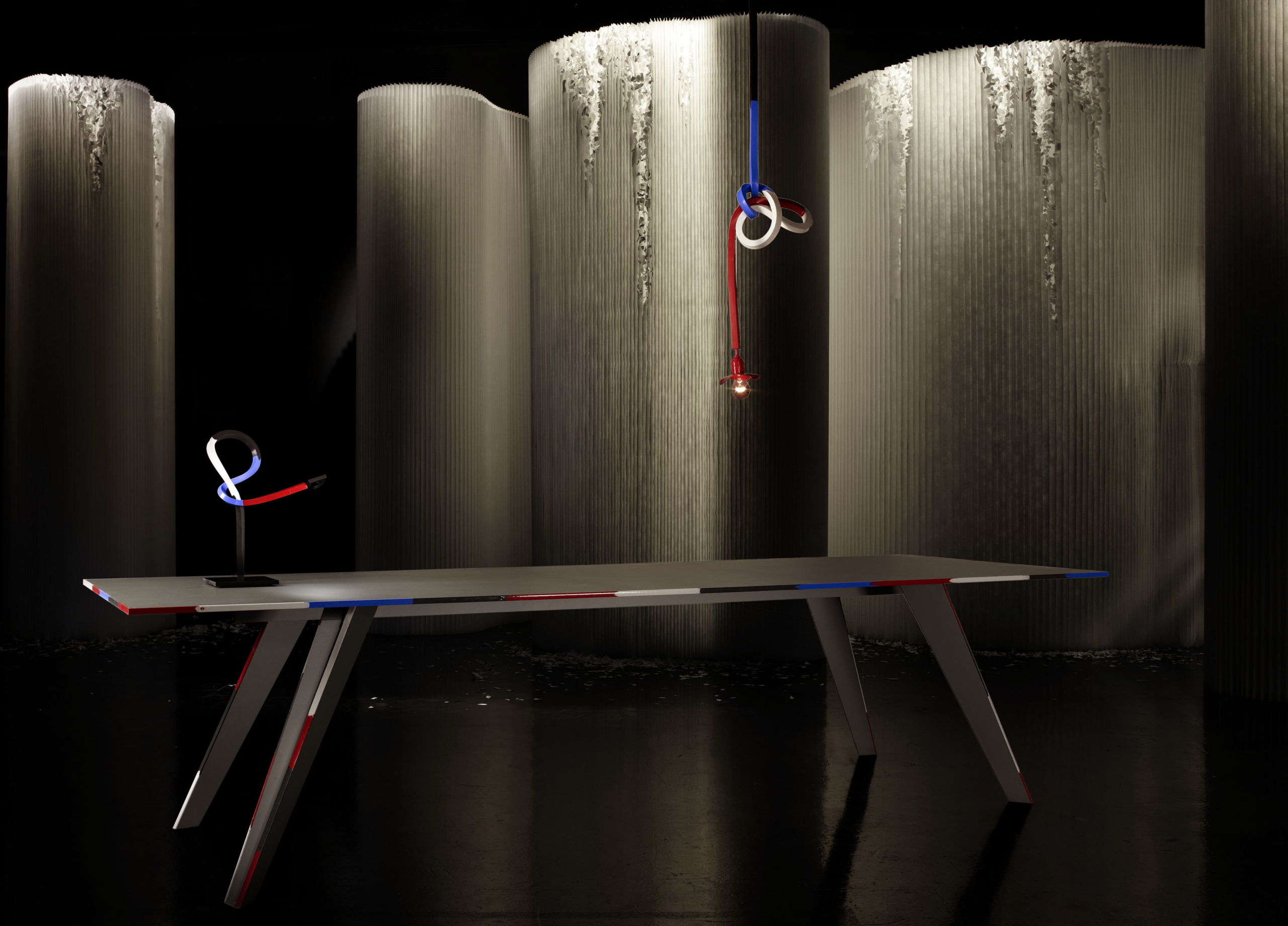 something else?
If you are interested in a customization not listed here, please contact sales@molodesign with your ideas and project timeline.