a fulfilling return to ICFF
thirteen years ago, molo presented float tea lantern at the International Contemporary Furniture Fair. It was the studio's debut at ICFF, and the stand was small enough that the construction materials fit comfortably in cofounders Stephanie Forsythe + Todd MacAllen's suitcases. This year, the studio transformed an 800 square foot piece of the Javits Centre into an echo of the Pacific Northwest, using paper softwalls to create the organic forms of sea caves.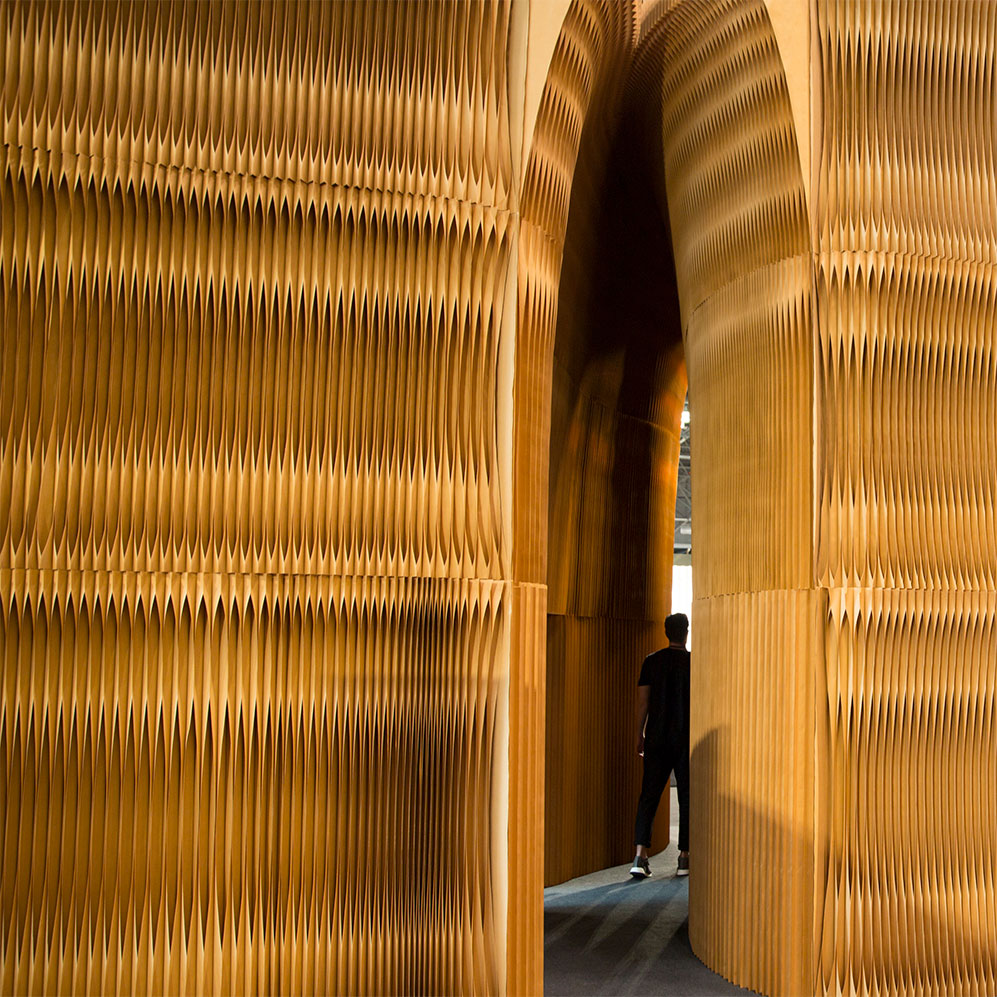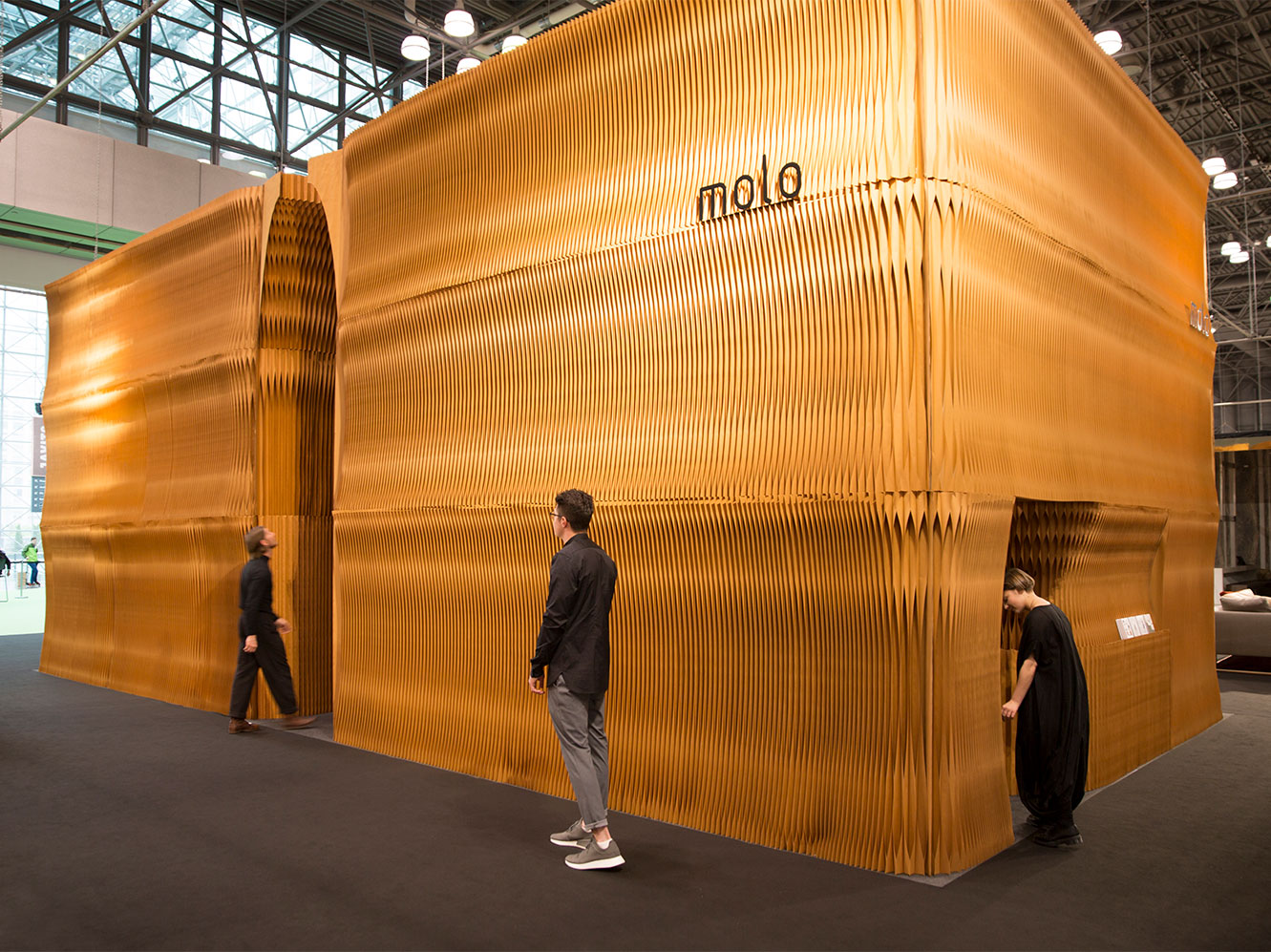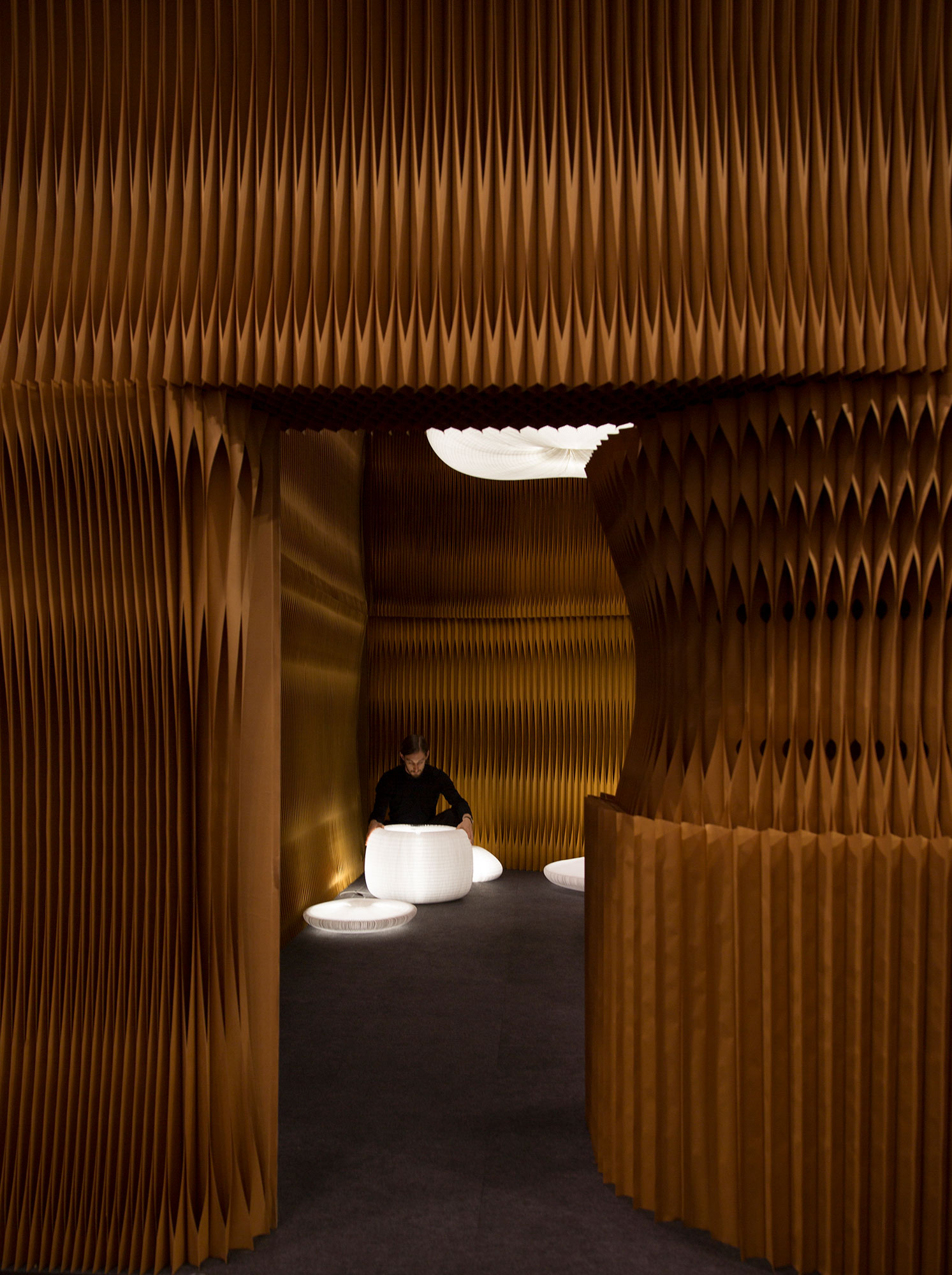 to demonstrate the soft collection's diverse possibilities at ICFF, Forsythe + MacAllen designed a parabolic vault built from stacked custom-cut softwalls. The parabolic shape channels force down through the walls to create a stable, freestanding structure without additional buttressing or ties. Reaching heights of 16 feet, the vault carved a monolithic fissure through the installation, connecting distinct spaces to experience and explore molo products.
after visitors drifted through the vault, running fingers along pleated fins and absorbing the shadowed quiet, they discovered a small room glimmering with light. This paper grotto was filled with the new urchin softlight. urchin's defining characteristic is playful interaction—gentle manipulation allows the shade to morph and change through myriad organic shapes. The new luminary integrates an LED system into the shade itself, bringing simple purity to its form and experience. This year, urchin captivated visitors and Instagram alike.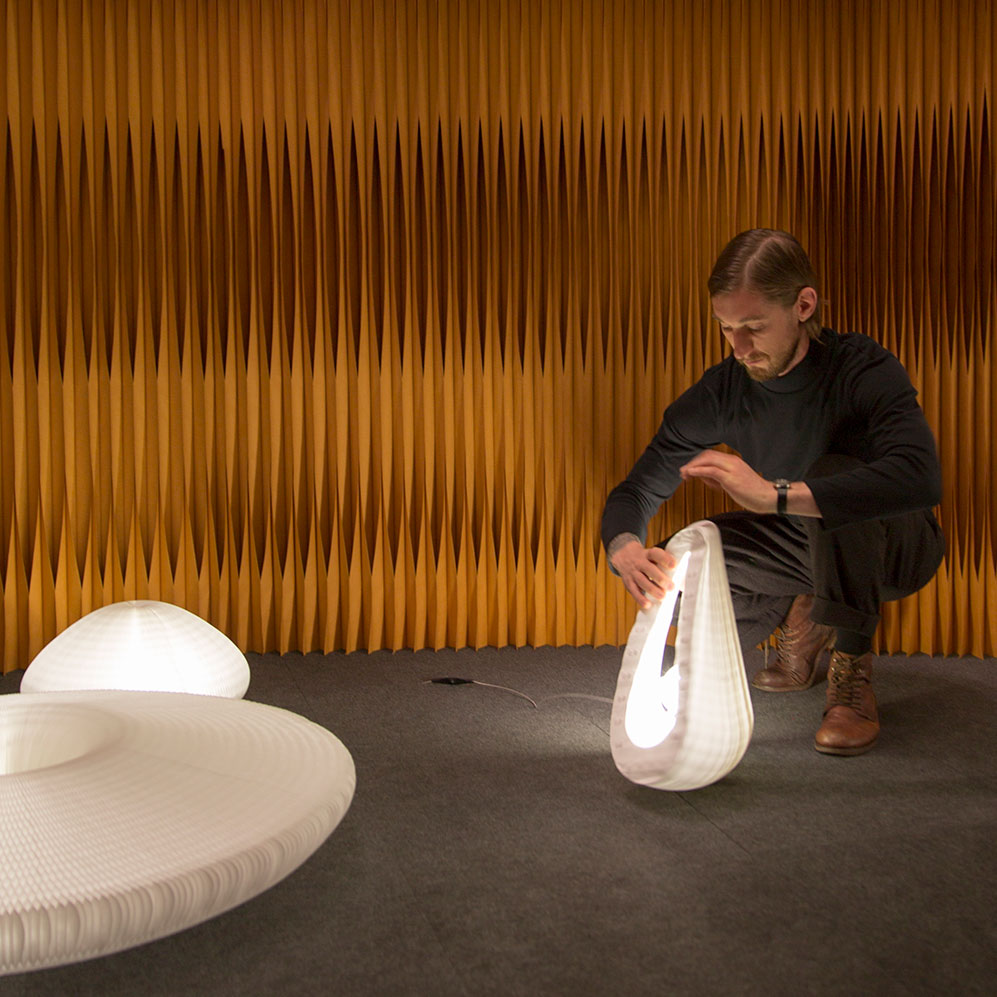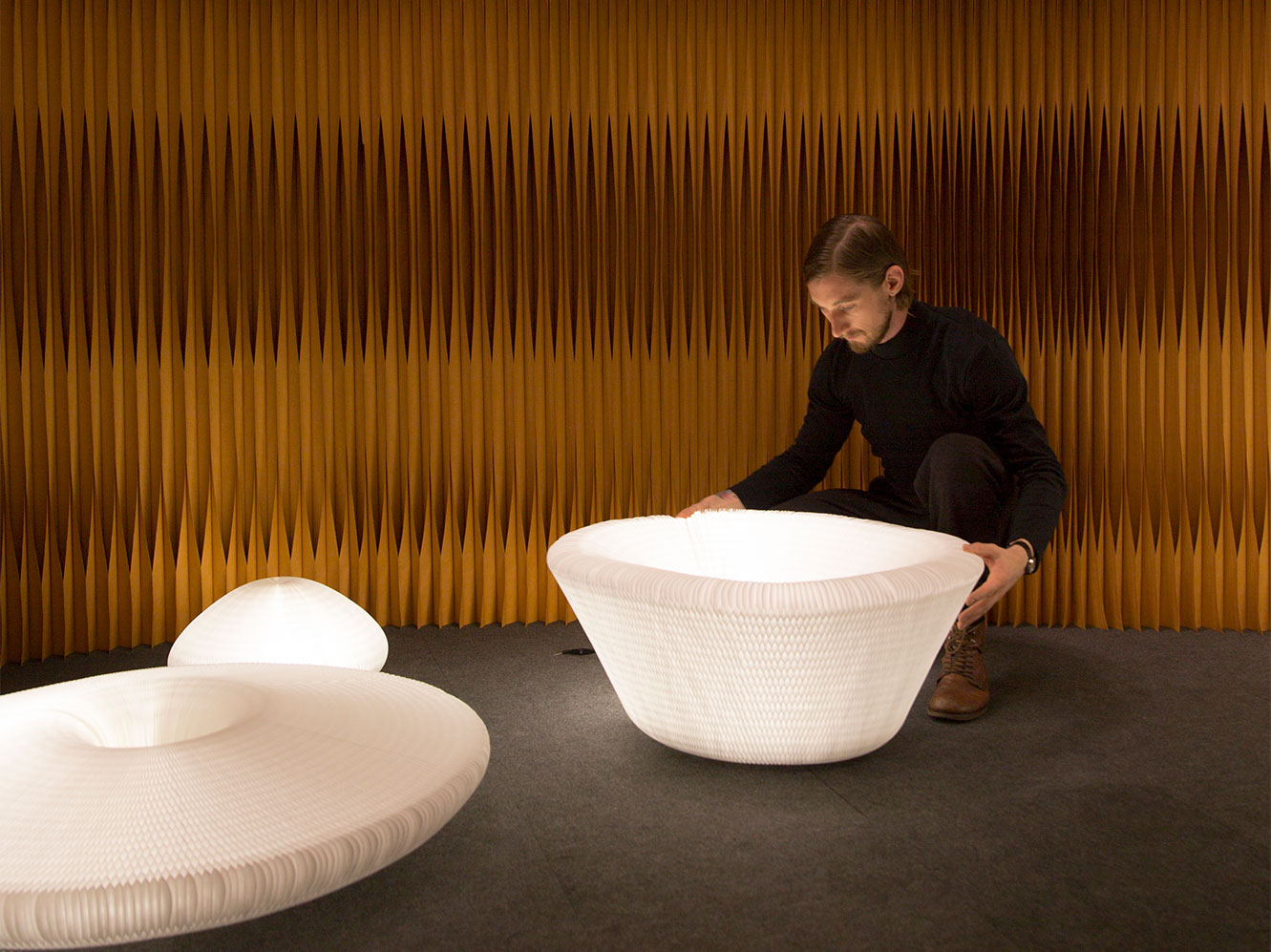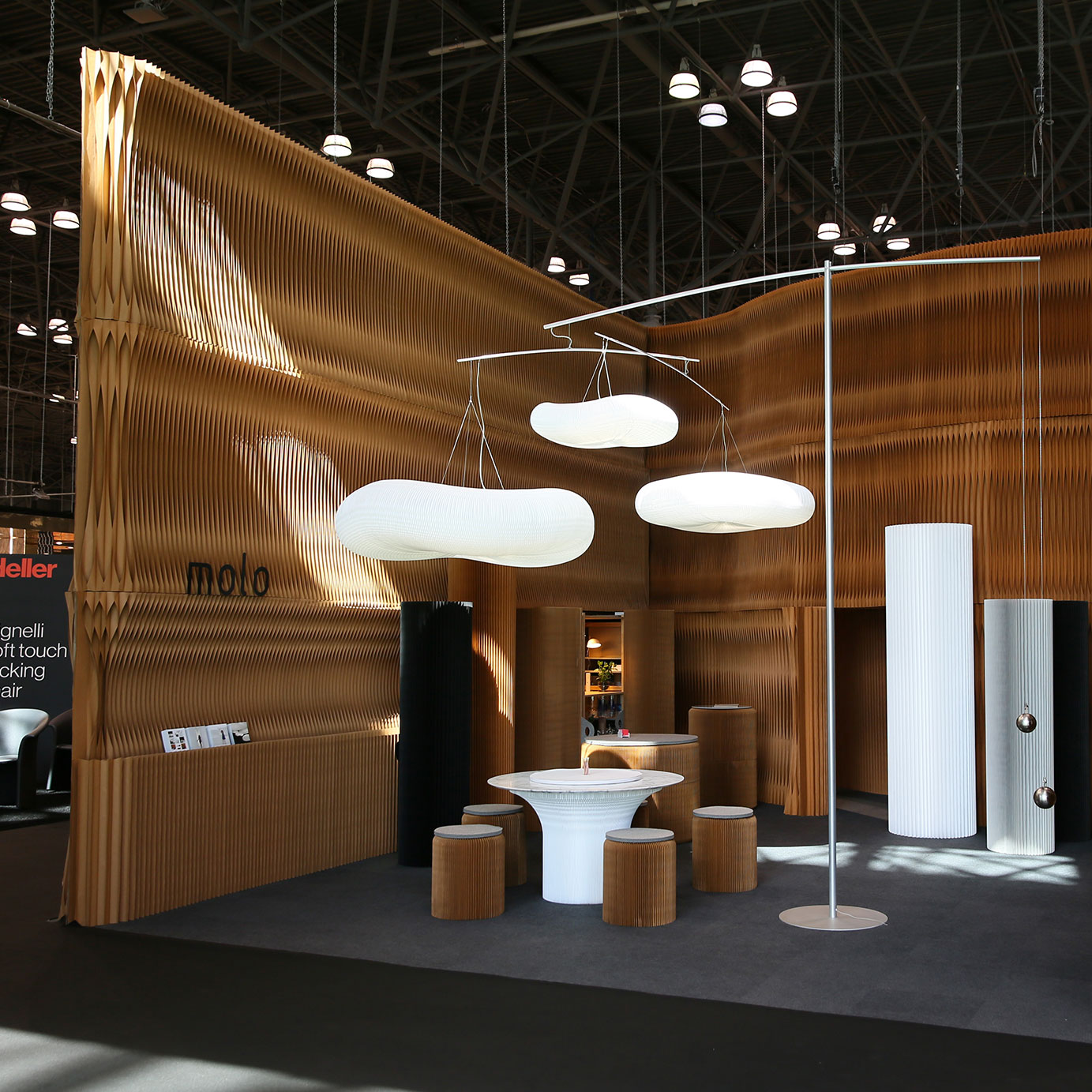 inside the larger space, visitors were reacquainted with cloud mast. A prototype version of the mast was shown at ICFF in 2016, and this year molo presented the first production model. The kinetic, floor-supported luminary suspends a canopy of glowing clouds that rise and fall with shifting air currents.
also on display was a new generation of the iconic softwall. Composed from a stiffer, non-woven polyethylene, this version of textile softwall is stronger and narrower. Made from a blend of recycled and new fibre, paper softwall supports the diminished width due to the already robust nature of its material. A new, bevelled edge along the bottom of the fins prevents wear and adds visual delicacy to the connection between softwall and floor.
although the booth and product range have outgrown travel by suitcase, the spirit remains the same. molo is dedicated to the exploration of space making across scales. The soft collection places that power in the client, offering endless possibilities to build with air, paper, light, shadow, shape and void.