softshelter
softshelter is a system of creating personal space within a larger shelter area, providing individuals or families with a sense of privacy and encouraging community following a disaster. The concept was developed by Stephanie Forsythe + Todd MacAllen in conjunction with another molo project, Aomori Nebuta House, a museum and cultural centre in northern Japan.
a stipulation for the museum's design was that the space would be able to serve as an emergency shelter. Following the tragic flooding and destruction caused by Hurricane Katrina, thousands of displaced Americans were relocated to shelters in massive stadiums. As Forsythe + MacAllen developed the plans for Nebuta House, they were regularly exposed to photographs and newscasts featuring the relief efforts. They began to consider methods of improving the living situation of those affected, and softshelter grew from those considerations.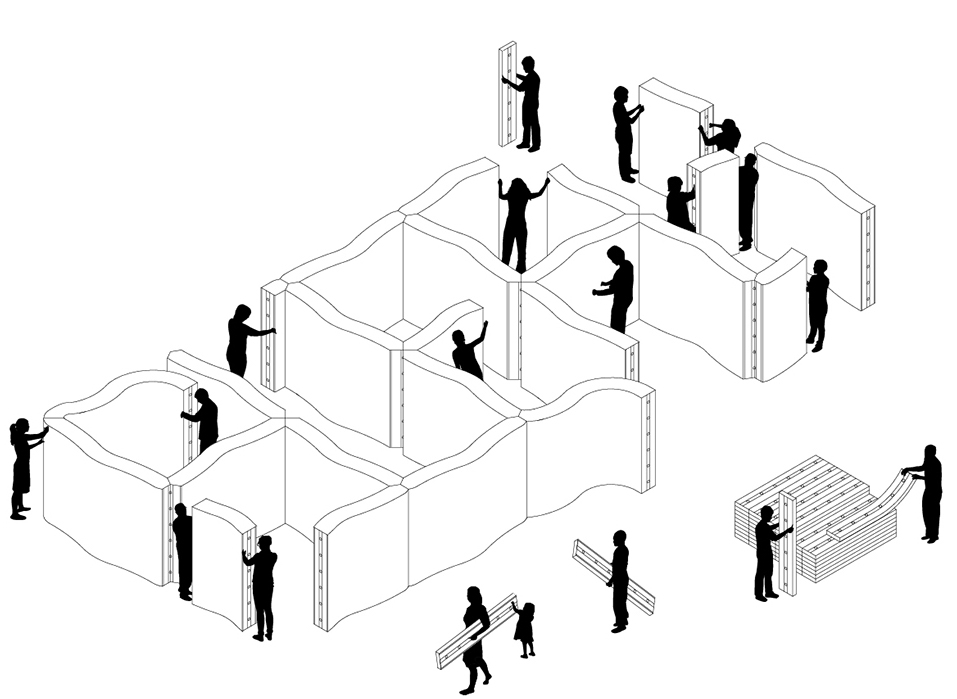 flexible deployment
the component walls are made from paper that has been treated with a nontoxic fire retardant. These paper layers are organized into a flexible honeycomb structure that allows the elements to stretch open or closed. Walls link via magnetic end panels, removing any need for tools, small parts or complicated instructions. When compressed, the walls pack flat for efficient shipping or storage. This facilitates the quick and easy installation of multiple shelters within a larger space, with the potential to reshape them from private quarters to shared gathering spaces, or adapt the shelters to unusual floor plans and obstructions.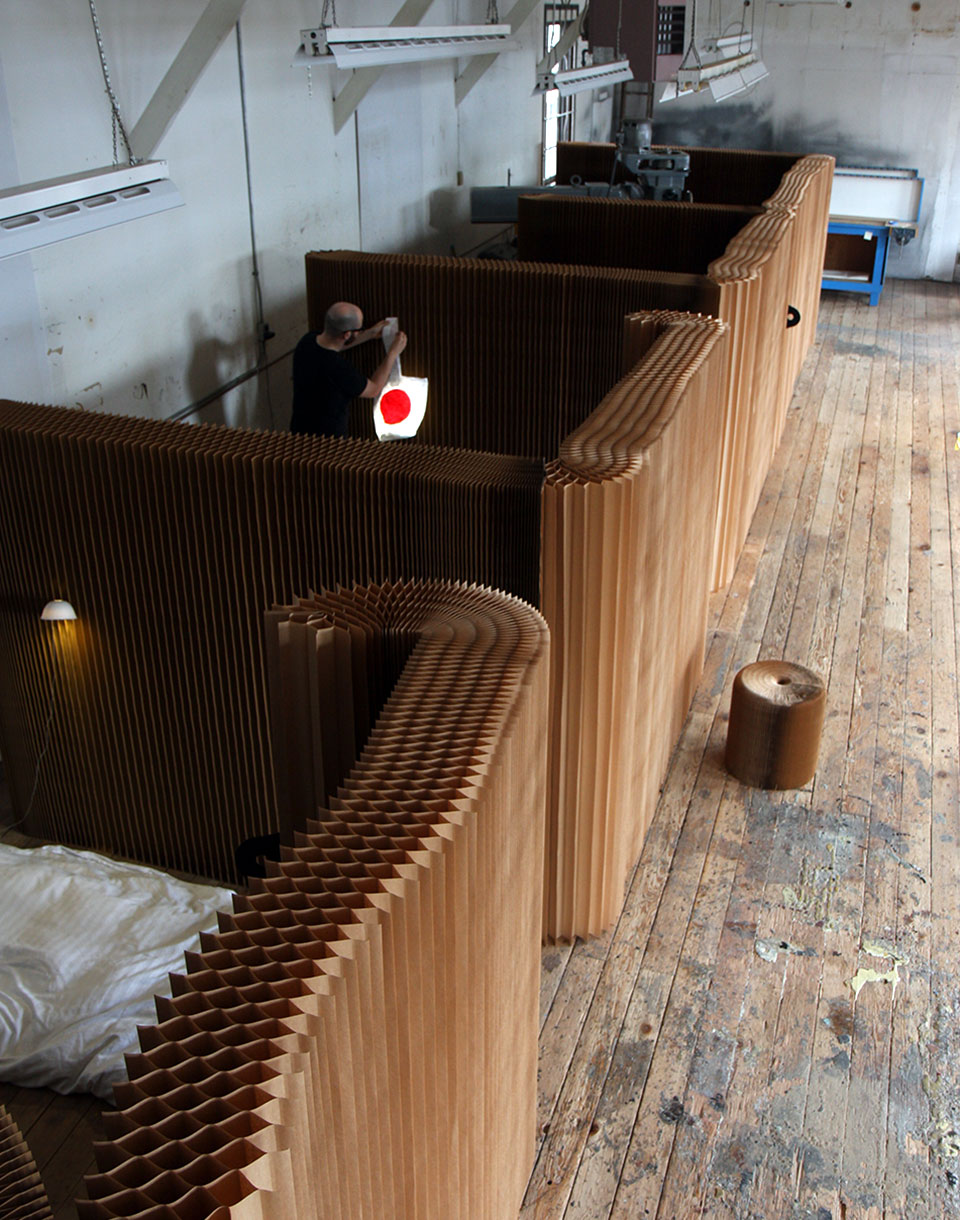 intention and development
softshelter empowers displaced individuals by giving them greater control over their situation. The component walls, which are a modified version of molo's paper softwall, have the potential to change how people consider space making and community-building by facilitating the adaptable design of their surroundings, and by using soft and flexible materials rather than the rigid building elements that most people associate with architecture and design.
as part of the development process, a molo employee spent six weeks inhabiting a softshelter in molo's workshop. By living in the shelter, refinements were discovered in both concept and functionality. The simple addition of a cardboard tube formed a closet, demonstrating how on hand materials can help to improve living conditions in a simple and meaningful way. The addition of easy-to-grasp felt handles was another development that is now an option for the standard softwall. It was this process that also revealed how accessories could personalize softshelter's interior. An LED lamp, magnetic clipping system for attaching photographs or letters, flower vase and tyvek hanger were added to the kit. These touches increase quality of life by creating a closer semblance of home.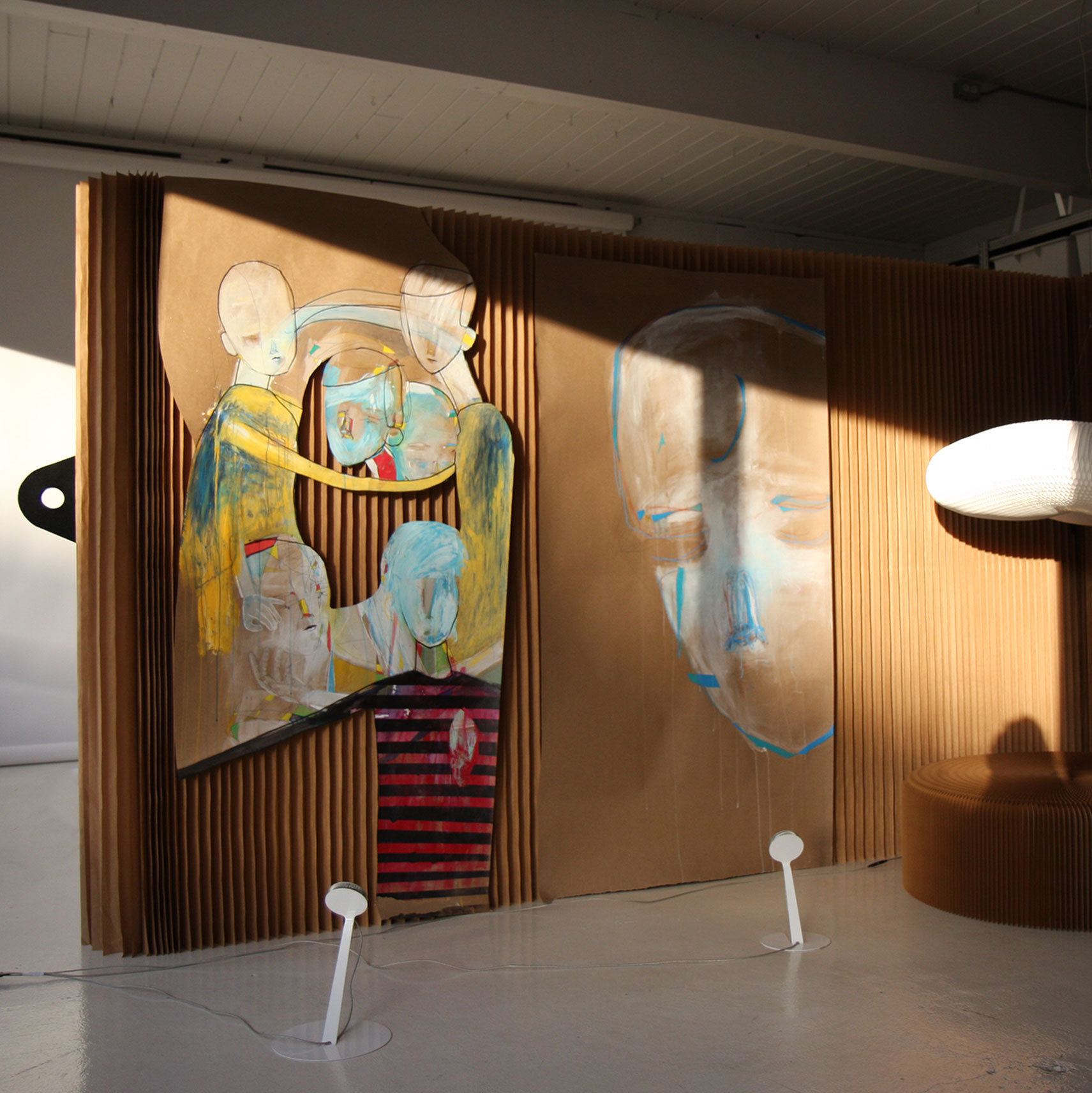 culture crawl
David Ullock, who occupied the shelter, is a local artist. When the molo work day ended, David would set up his supplies and paint. The paintings—abstract and colourful explorations of selfhood and relationships—echoed the emotions associated with the displacement that softshelter was intended to address. His time in the shelter happened to coincide with the Eastside Culture Crawl, an annual celebration of art and design that occurs in molo's neighbourhood. To participate in the Crawl, David and the studio adapted his shelter to create a gallery space for his paintings. Passersby could appreciate the art through the large windows, and wonder at the backdrop of paper walls.