"our boundaries define our personal space – and we need to be sovereign there in order to be able to step into our full power and potential."
the quote by author Jessica Moore may be about interpersonal relationships, but it is apt to interior spaces all the same. After all, we have deep connections with the places we reside within. We may also find that special moments in time in an event venue can form a lasting impression on our psyche. Consequently, how boundaries are defined within a room, home, banquet hall, or auditorium is just as important as the floor plan, lighting, furnishing, and decor, if not more. Given the significance, selecting custom room partitions and space dividers can be one of the most important steps during the interior design process.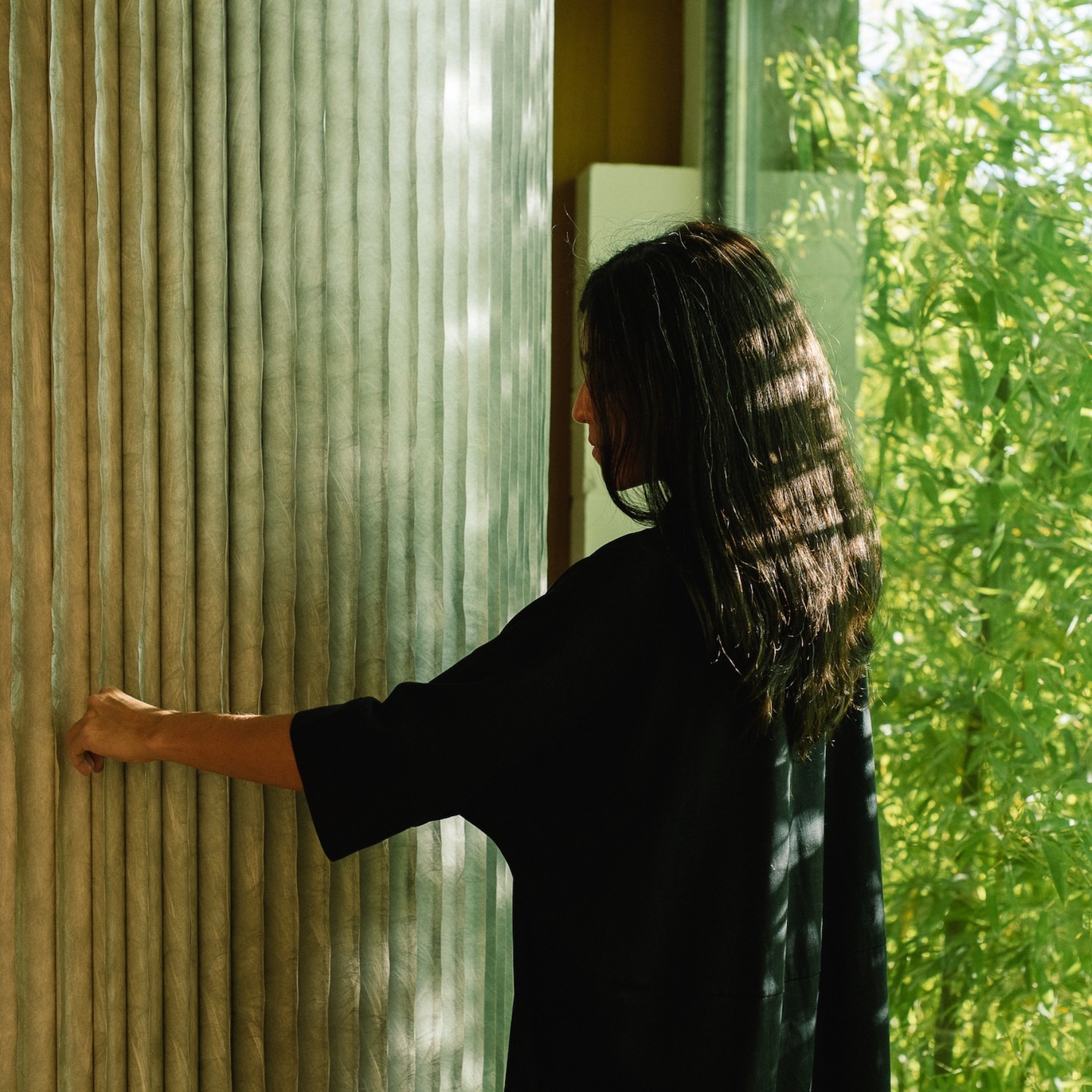 what if the boundaries of a room could be changed throughout the day?
when Stephanie Forsythe and Todd MacAllen first conceived of the soft collection, they were trying to create a solution where a work or living space could rapidly evolve as one's needs changed throughout the day. The overarching idea was, and still is, flexibility.
today, the softwall has redefined everything anyone has ever considered about custom room dividers. Think we're being hyperbolic? The soft collection is featured in over 100 art galleries and exhibits around the world and has been put to use in commercial and retail spaces by the world's biggest brands, including Apple, Google, Louis Vuitton, MasterCard, and more.
there are truly endless possibilities with the softwall, whether it's being used in a home, commercial space, or event venue. Here are some important features you should know about that make the soft collection uniquely different.

any shape · whenever you desire
molo paper and textile softwall have been designed with honeycomb geometry, while molo wood softwall has been engineered with bonded sheets. Each element can be manipulated and shaped into any number of curved or linear formations up to 15 feet long. Moreover, softwall features magnetic end panels, which allow you to expand upon the concept · literally and figuratively · as much as you desire.
any colour you choose + bespoke design options
if purchasing directly through the molo design studio website, clients enjoy access to the most beloved colour options for each line of softwall. Our paper softwall comes available in brown, black and blue, while textile softwall is available in white, warm white, black, and aluminum. However, paper and textile softwall can be dyed to practically any permanent pigment you choose; i.e. you can order to match a pantone colour of a room or a brand colour, etc. Furthermore, clients have the option to customize the finish of the walls themselves, with special heights, sculpting, cutaways, lighting and more, through our bespoke services.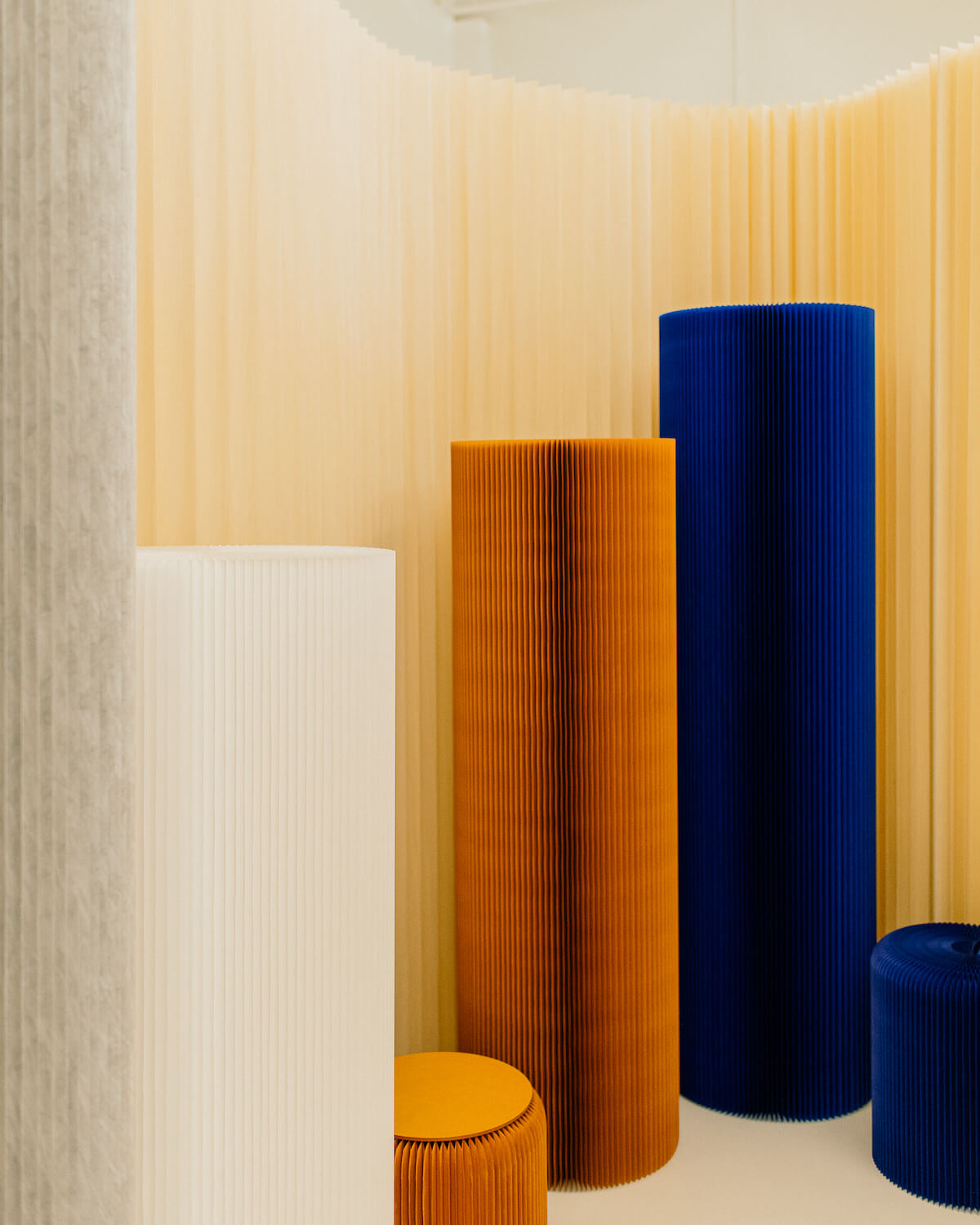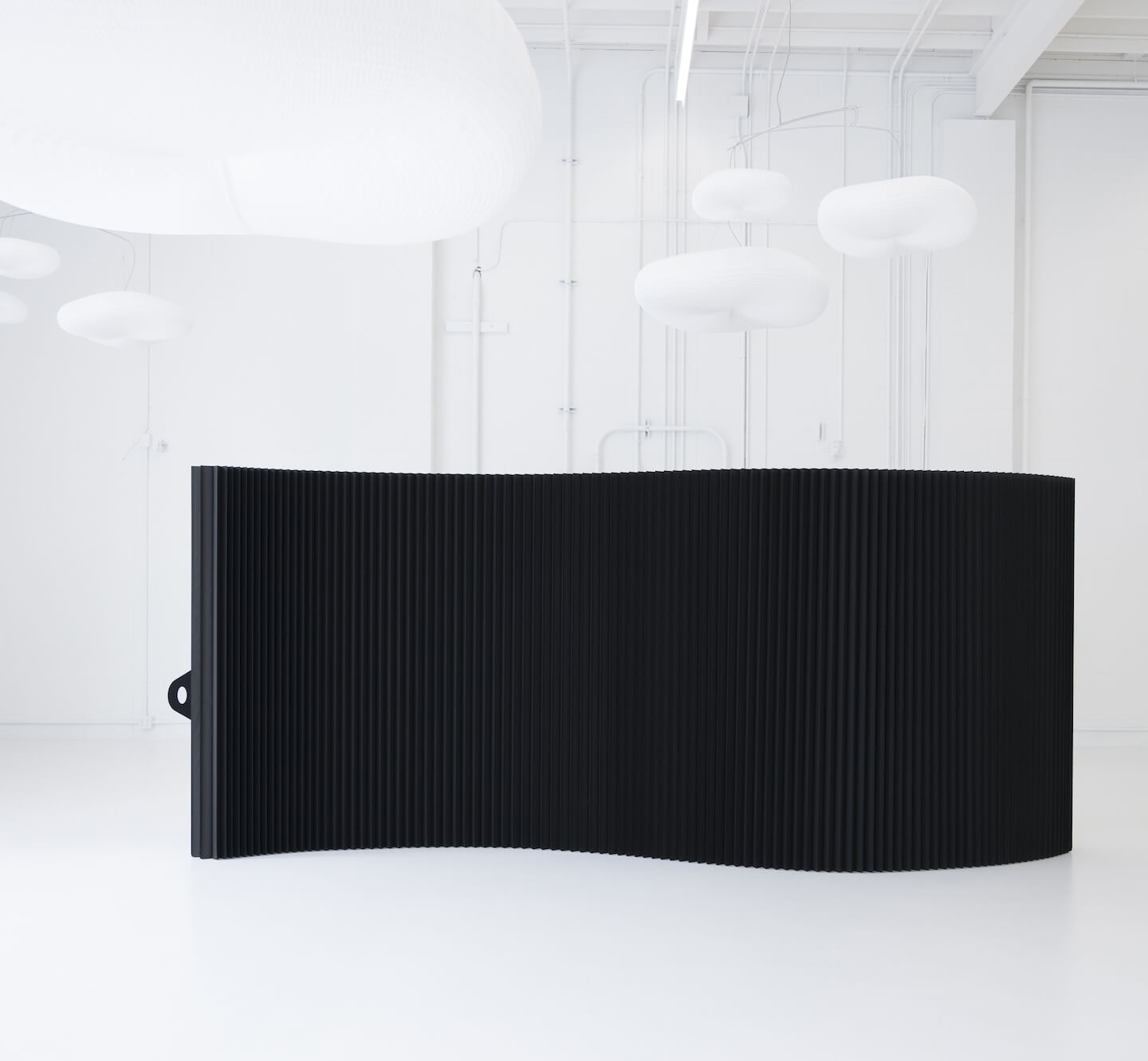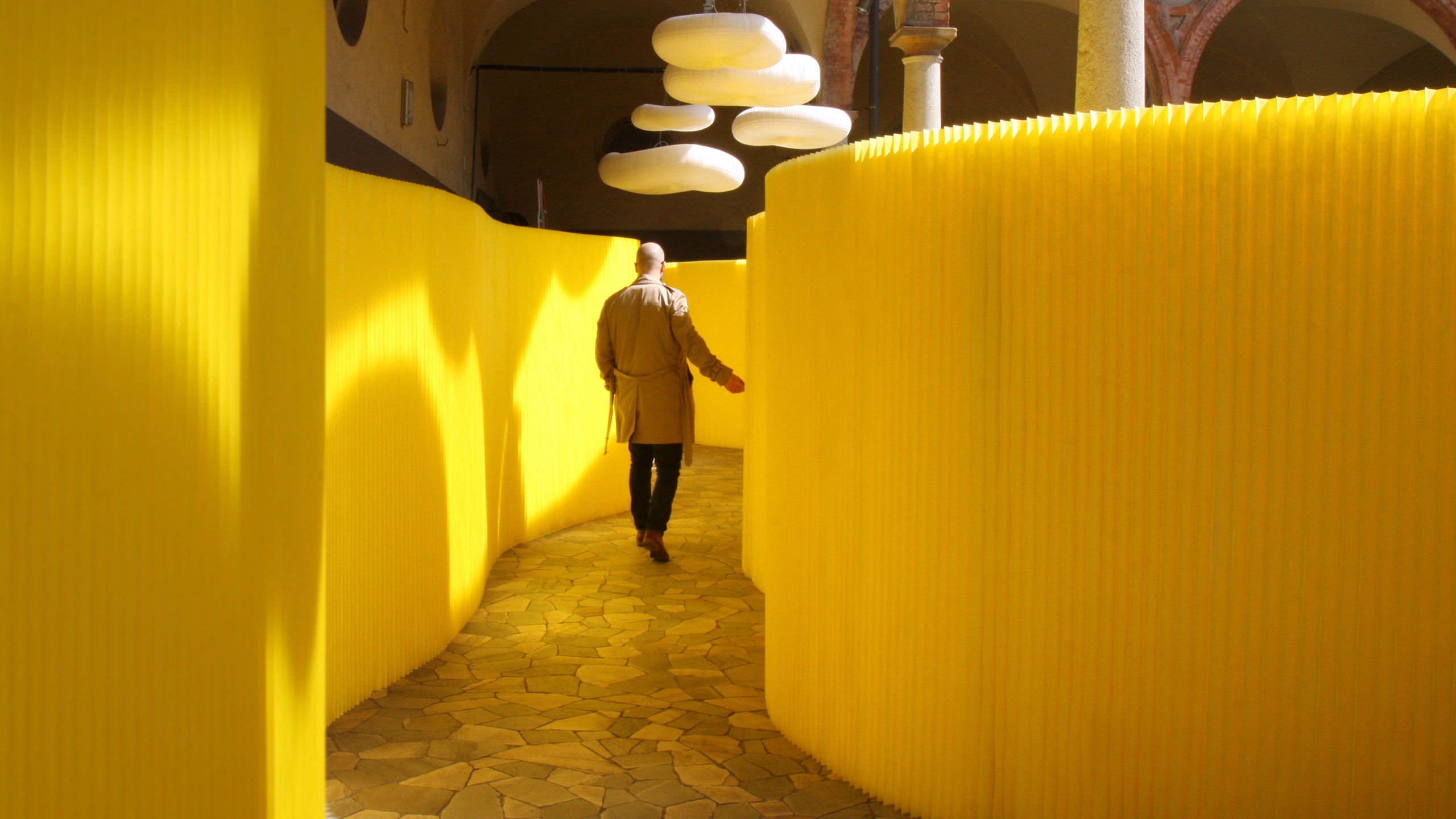 sound control
when you choose softwall, you not only customize aesthetics and dynamically control the delineation of space, you create boundaries against noise. Our paper, textile, and wood veneer innovations also feature acoustic properties that provide an optimal aural experience.
illuminating ideas
lighting is closely connected to creating perceptible pathways and division of space alike. Furthermore, lighting can also be used to enhance positive emotions in a divided room, which may otherwise feel cold and unwelcoming without its thoughtful touch. Our studio has also considered this in the design of textile softwall, which can be outfitted with flexible LED ribbons to transform the elements into expressive, luminous space partitions. Light emphasizes the subtle beauty of the textile material, illuminating its delicate fibers and dissolving into the surroundings to amplify good feelings and spatial experience.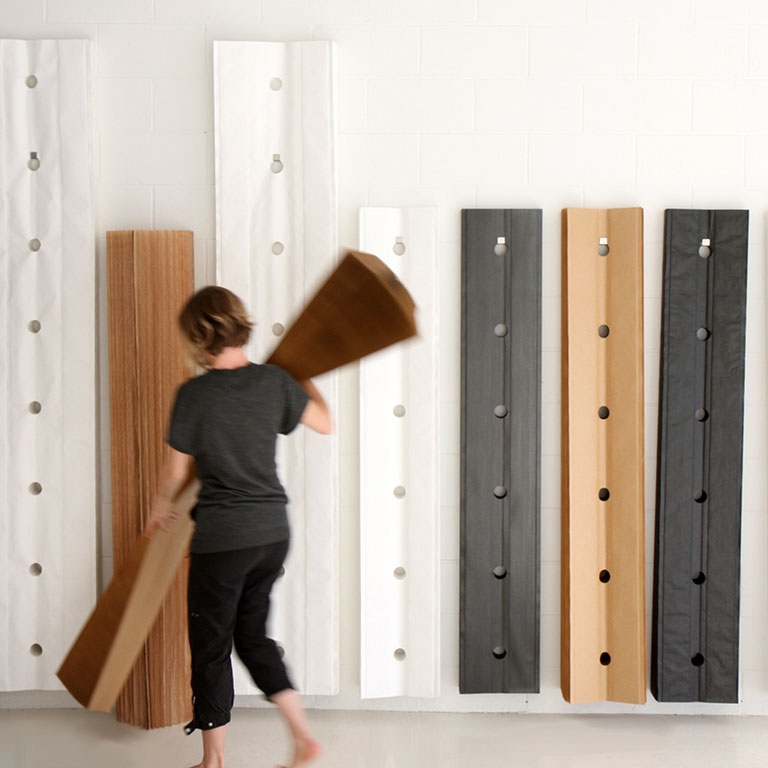 use it only when you want to use it
the same honeycomb geometry (paper and textile) and diamond-shaped bonded sheets (wood) that make softwall malleable to any form also provide you with the seamless option to use it or not use it, as you desire. When compressed, each softwall retreats to the thickness of a book. When not in use, you can tuck it away for safekeeping without rearranging your storage spaces. When you need it again, it can be retrieved and do its duty once again within seconds of being in your grasp.
the freedom to take it with you
carrying over from the ease-of-storage detailed above, you can easily transport softwall. There are countless examples of clients using our custom room partitions for exhibit environments, pop-up retail stores, product launch events, fine art shows and performances, and weddings.
have a custom project or need? Reach out to discuss your specialized needs, including colour customizing options and limited colour runs that we may have available. We encourage you to explore the possibilities of molo custom room partitions for your space:
paper softwall
textile softwall
textile softwall with LED
wood softwall
aluminum textile softwall
custom colour softwall