private medical offices face a challenge regarding the emotional state of individuals who visit their clinic. Even though they need an essential service, patients naturally want to avoid being there. They have come for an examination or treatment for an ailment and, as such, may experience fear, uncertainty, and psychological discomfort that may manifest as anxiety and stress. The latter can have a physiological impact and aggravate symptoms of even the most minor conditions.
as the owner or administrator of a high-end medical clinic, you are ultimately responsible for improving your patients' comfort levels. As alluded to above, this spans beyond the call to improve one's physical well-being. It is also essential to put their minds at ease, making the experience more pleasant for them and your staff.
removing stressors that are known to harm a patient's psyche is key. Studies have shown that exposure to other patients is one such stressor. How other patients behave, along with perceptions about their illness, are situational and environmental stressors that can make time within a clinical environment very uncomfortable for a visitor. For this reason, it is ideal for a clinic to limit exposure between patients in waiting rooms and treatment areas. This is where medical room space partitions are instrumental. However, knowing that interior design also significantly impacts patient emotions, a medical office must not choose partitions that look and feel "institutional" in nature. Most room divers for medical facilities convey precisely that. Thankfully, this is not the case with molo space partitions.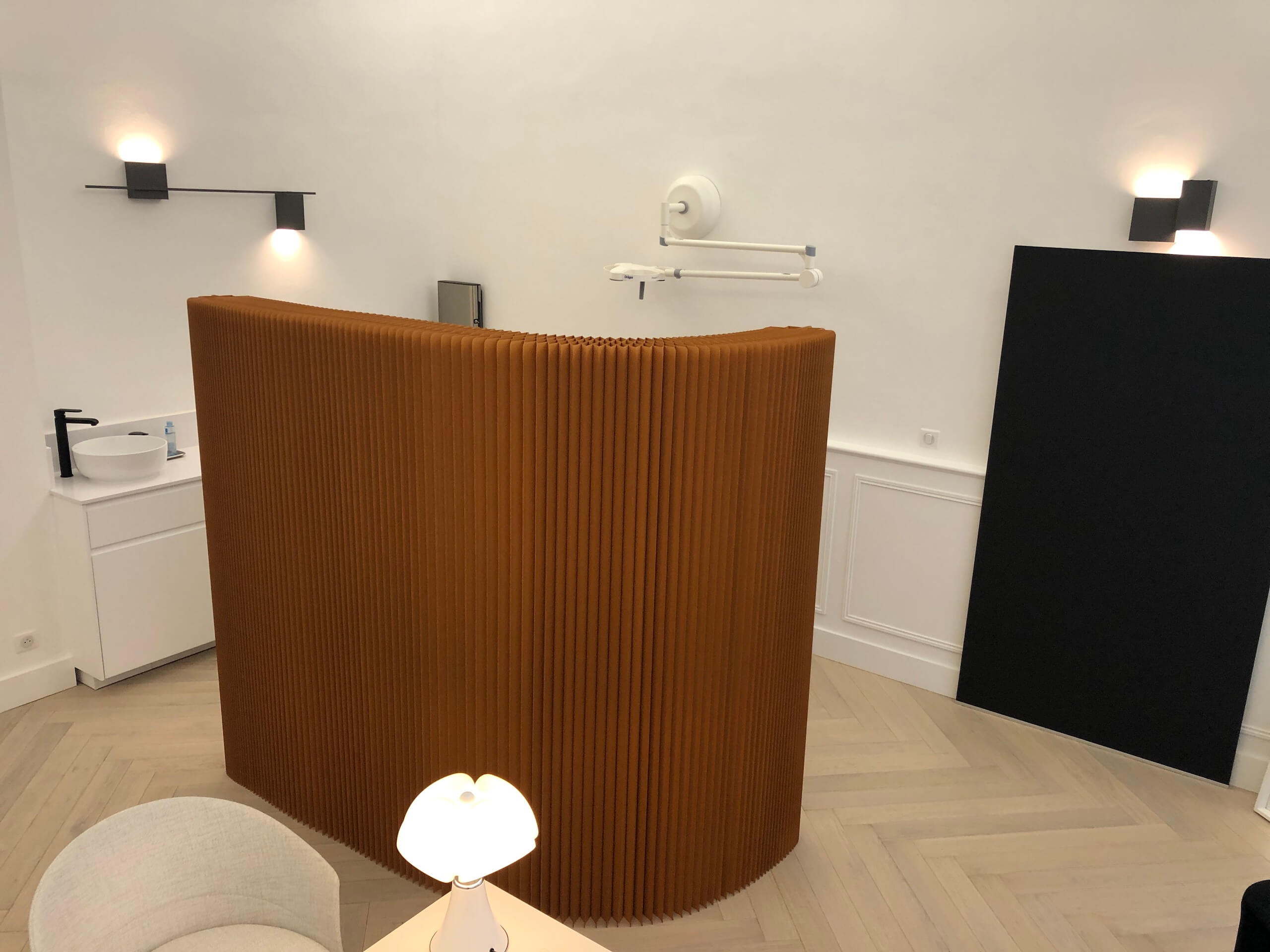 molo paper, textile, and wood softwall appear as if they are living and breathing organisms. They are malleable and can be sculpted into any curved and linear formation. When thoughtfully introduced into a clinic, softwall imparts a sense of cellular wellness in stark contrast to traditional medical environments. For this reason, we encourage you to use softwall early in an arriving patient's experience. Doing so will foster a favorable first impression by limiting exposure to stressors such as other patients and medical equipment.

softwall, which expands up to 15 feet in length, should also be leveraged to delineate and partition both waiting spaces and treatment areas. The dividers offer those in-queue or in-treatment a private and quiet place to lay or sit until they are ready to leave. The acoustic properties of softwall further contribute to this worthy goal. moreover, molo softwall can function like a convenient curtain to separate patients from patients, and patients from staff, when needed.
in addition to softwall, molo studios offer private medical offices with other innovative partitions. Our paper and textile softblock expand (literally) upon our patented concepts in honeycomb design. They can be stacked on one another to accommodate varying space-dividing needs where height is of the essence.
just as easily as softwall and softblock are set up within your clinic, they can be moved or compressed for storage and transport. Each compresses to the thickness of that stack of magazines in your waiting room.